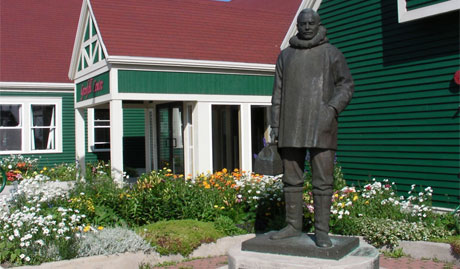 Grenfell Heritage Hotel & Suites' namesake is a tribute to Sir Wilfred Thomason Grenfell - who gave generously for so many years of his life to care for the people of Northern Newfoundland and Southern Labrador.
Grenfell Heritage Hotel & Suites was originally built and operated as a nursing residence and apartment building - called the Carlson House. It was named after the late Selma Carlson who started as a nurse with the Grenfell Mission in 1915.
In 2007, a new structure was built using the original frame of the Carlson House and Grenfell Heritage Hotel & Suites opened the doors to travellers from near and far.
Our hotel is located within very close proximity (several minutes walk) to Grenfell Historic Properties. This famous tourism landmark features Sir Grenfell's historic home, a museum dedicated to the Grenfell Legacy, and so much more. Visit Grenfell Handicrafts, a company launched by Sir Grenfell over 100 years ago.
The
Grenfell
Legacy
|
Part
Of
Our
Heritage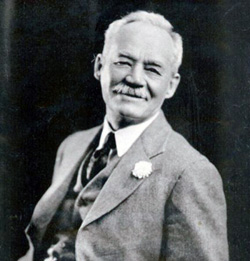 Wilfred Thomason Grenfell was born on February 28th, 1865 in a small coastal town in England. He was an adventurous, impetuous boy who loved the outdoors and the sea. In 1883, Grenfell entered the London Hospital Medical School. While in London he heard the American evangelist, Dwight L. Moody. His words changed Grenfell's life and he decided to commit himself to Christ.
Grenfell joined the Royal National Mission To Deep Sea Fishermen - an organization which provided medical and spiritual services to North Sea Fishermen. In 1892, Grenfell was sent to Newfoundland and Labrador to investigate the conditions in the Labrador fishery. "We're wonderful glad to have you," a fisherman said, "We've never had a doctor in theses parts before."
This was the start of Dr. Grenfell's lifelong work on a coast that was ice blocked and inaccessible for many months of the year. He was devoted to improving the life of the people.
Dr. Grenfell practiced medicine, built hospitals, established schools and orphanages. When not working on the Newfoundland and Labrador coasts, he travelled in the United Kingdom and North America looking for support and labour.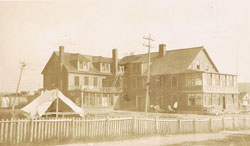 The Grenfell Mission established a presence on Newfoundland's Northern Peninsula when it opened a year-round hospital here in St. Anthony in 1901. The community of St. Anthony became mission headquarters. Grenfell opened an orphanage in 1904 and a school in 1909.
For his years of service on behalf of the people of these communities, he was knighted by King George V. By 1914, the mission had gained international status. During his life, Grenfell received many honours and awards for his dedicated work. In 1928, he was made a Knight Commander of St. Michael and St. George.
By the late 1920's, the hectic pace had begun to take its toll and Grenfell had the first of a series of heart attacks. He died in Vermont on October 9th, 1940. His ashes were brought back to his beloved coast and are buried on Tea House Hill behind the Grenfell House Museum here in St. Anthony.
"The
purpose
of
this
world
is
not
to
have
and
hold,
but
to
serve"
-
Wilfred
T.
Grenfell
Come join the Grenfell Historical Society and the people of Newfoundland & Labrador in their celebration of the Grenfell Legacy.
Sir
Wilfred
Grenfell
|
Comic
Book
Hero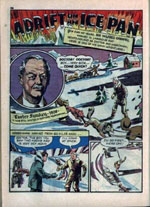 Did you ever wonder how Sir Wilfred Grenfell's harrowing tale of survival in northern Newfoundland would translate into comic book form?
Wonder no longer. The good doctor made his debut in Issue #10 of "True Comics" (1941). And what a fine story it turned out to be.
View the legendary adventure of Sir Grenfell's adventure "Adrift on an Ice Pan". Yes, this is a true story and it occurred right here in the St. Anthony area in 1908.