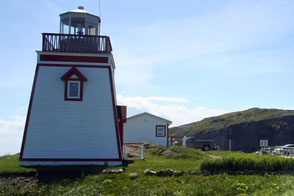 Fishing Point is the meeting place in St. Anthony for local residents and tourists alike. Experience hiking, whale & iceberg viewing. Climb 543 stairs to the top of Fishing Point head where an exhilerating view of Newfoundland's rugged ocean coastline is waiting for you.
At the Fishing Point Emporium - Rest awhile, shop and learn about the area. The Fishing Point Emporium has the largest selection of souvenirs and crafts on the Viking Trail and has many other conveniences for the traveller.
There are 4 major trails that begin at Fishing Point - each trail being unique. Don't miss this series of amazing trails. There is a large 'Trail Map' sign at the entrance to Fishing Point Park - to help guide you.