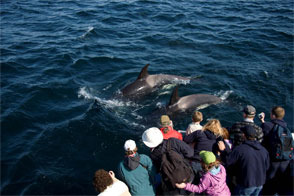 Our region has the longest whale watching season in North America. This is due to the immense capelin feeding grounds, which surround our area. Capelin is also the key food of the Atlantic Cod & many other fish. Don't miss the spectacular array of whales, dolphins, porpoises, seals and other ocean mammals. Take a boat tour - or view whales all summer long from Fishing Point (or one of our many regional hiking trails, which follow along the ocean).
90% of icebergs seen in Newfoundland and Labrador come from the glaciers of western Greenland. From May thru July and sometimes in August, you can view majestic icebergs and large whales right off of our shores and cliffs.
To find out if there are currently icebergs in our area, click the link below.