L'Anse
aux
Meadows
National
Historic
Site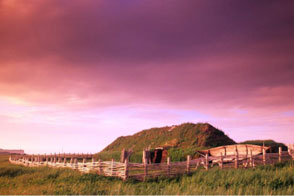 In the past four to five thousand years, many people have lived at L'Anse aux Meadows. Some stayed longer than others. Among these people was a small group of Norse sailors. The remains of their camp, discovered in 1960 by Helge and Anne Stine Ingstad, is the oldest known European settlement of the New World.
The archaeological remains at the site were declared a UNESCO World Heritage Site in 1978. Exhibits highlight the Viking lifestyle, artifacts, as well as the archaeological discovery of the site.
In addition to the interpretation of the Norse settlement, L'Anse aux Meadows offers hiking trails, picnic sites, and a gift shop. Bilingual guides are available from mid-June to Labour Day (the first Monday in September). The site, visitor centre, and washrooms are wheelchair accessible. Closed captioning of the bilingual audio-visual presentation is available on request.