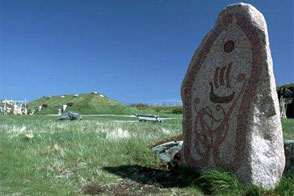 Norstead Viking Village is a non-profit organization that was created to take history out of the exhibit case and place it in the hands of visitors.
Join costumed interpreters in the dim light of the Viking-style Chieftain's Hall and listen to mysterious Viking tales. Step aboard the full-scale replica of the Viking ship 'Snorri'. Learn how the Vikings mastered the North Atlantic. Use a simple notched stick to measure distance by the stars. Get your 'runes' told by the wise women. Shape clay into pottery the way the Vikings did. Spin sheep fleece into yarn using ancient drop spindle technology, dye the yarn using local plants and berries and then weave it into cloth at the loom.
Norstead replicates a Viking port of trade as it may have looked during the Viking era (790-1066 AD). The four-hectare site has a boat shed with its very own Viking ships, including the 54 foot replica Viking knarr which sailed from Greenland to L'Anse aux Meadows in 1998 with a crew of just nine men.