Pistolet
Bay
Provincial
Park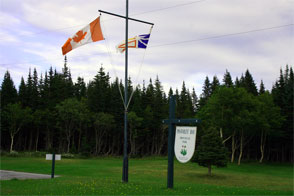 Pistolet Bay Provincial Park has a diverse eco-environment with many types of plants, trees, and shrubs as well as an abundance of wildlife. The nearby Strait of Belle Isle provides opportunities to view marine mammals and seabirds.
The park offers campsites with fireplaces and picnic tables. A day use or picnic area is equipped with picnic tables, garbage cans, drinking water tap, pit toilets, and swimming change houses. A swimming section has been roped off on the beach in the day use area for your safety.
Pistolet Bay Provincial Park also offers a tremendous opportunity for the canoe enthusiast who can take a major excursion on a nearby lake system. Brook trout are the most common angling species within the park boundaries. There are rules and regulations concerning angling so check with park staff before wetting the line.
Located on Route 437, 12 kilometres off of Route 430.