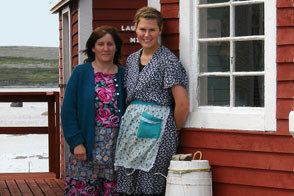 Raleigh Historic Village offers the recreation of a 1940's historic fishing village.
Nestled away on the northern tip of the island of Newfoundland, lies the quaint town of Raleigh. With humble beginnings and an arduous struggle for existence, this tiny town of 260 people will surely capture your heart and unleash your sense of adventure.
This attraction offers you the chance to experience the heart of outport Newfoundland and Labrador. It extends you the opportunity to capture the spirit of our colonizing forefathers, so that you might understand the richness of our heritage, and the pride of our people.
Boat Tours • Experience Jigging for Codfish • Learn About Traditional Newfoundland Meals • Guided Hiking Tours • Craft Workshops • Traditional Fishing Workshop • Bunkhouse Sleepovers
Located in the scenic town of Raleigh (30 km away).